Project - Overview
INSCAPE Beta release is available to you! Please register to our Open Community to gain access to the software, general user information and online discussions.
INSCAPE aims at developing a unique integrated collaborative tool supporting a wide range of devices and media formats to enable digital content creators to plan, build, experience and publish interactive multimedia stories, whatever their form, be it theatre, movie, cartoon, puppet show, video-games, interactive manuals, training simulators, etc.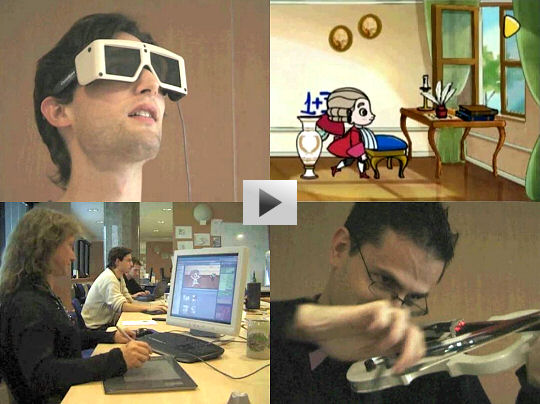 INSCAPE will generate and develop the knowledge in the emerging domain of Interactive Storytelling by researching, implementing, demonstrating and disseminating a complete suite of innovative concepts, tools and working methods tightly integrated in a homogeneous web-based framework and offering a full chain to people with no particular computer skills, from content acquisition and creation, organising, processing, sharing, and using all the way to publishing, from creators to "viewers".
INSCAPE will also address issues such as the acquisition, the creation, the management and the sharing of interactive stories or their real-time multi-sensorial rendering combined with natural agent behaviours and multimodal interfaces. It will also provide innovative natural interfaces and devices for intuitively creating or living interactive stories within multi-dimensional virtual, augmented and mixed realities.
By addressing this domain, INSCAPE goes beyond "standard" content creation research and technology development projects and will address scientific and industrial simulation, training, education, poetry, art, emotions, cultural and human context and diversity.
The specification of the project will be driven by an analysis of the needs of real world users participating in the project as partners or involved in the INSCAPE Open Community. Through the lifetime of the project, the INSCAPE integrated system will be available in successive versions (alpha, beta, final) provided to the end-users, including the Open Community, for purposes of validation on real-cases, demonstration and training.
Do you want to learn more about the Inscape Project? Download the A4 Project Overview Flyer.
Come see us from time to time to see how to become an INSCAPER and make your stories live!